Why The Ford Ecosport Is The Perfect Vehicle For Driving In Dartmouth
Why The Ford Ecosport Is The Perfect Vehicle For Driving In Dartmouth
Posted on February 15, 2023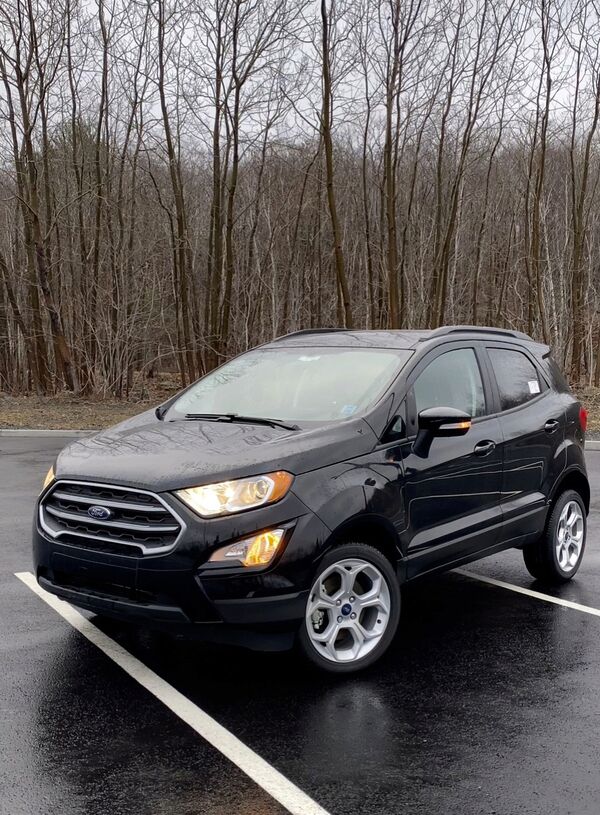 Are you considering the purchase of a new vehicle but unsure which one is best for you? The Ford EcoSport is a terrific compact SUV that makes an excellent choice for taking to the roads in and around Dartmouth, Nova Scotia.
Compact SUV – What it Means for You
If you are wondering if the Ford EcoSport is right for you, there are several reasons to consider this compact SUV. This vehicle can be driven with a sense of security on highways due to its larger than average chassis. It also provides an ease of maneuverability on inner city streets thanks to it weighing less than a regular SUV.
Here are some other benefits of the Ford EcoSport:
Excellent Vision – The vehicle's elevated seating makes it easier to see the road for a safer drive. A higher vantage point gives you the ability to notice when an object is in your way or if an animal is crossing the road, helping you avoid a possible accident.
Cost Friendly – Everyone wants to save money on transportation costs. When you choose a Ford EcoSport, you will be happy to know this compact SUV is lighter than a standard SUV, making it more fuel efficient.
Style Forward – You want to look fashionable with your choice of clothing just as you want your vehicle to stand out in design. This is exactly what this compact SUV does. It has plenty of room inside for up to five passengers but with a sleeker design than a regular SUV.
Driving in Dartmouth
Dartmouth, Nova Scotia is known for its breathtaking lakes, making it great for road trips. Whether you are the type of road tripper who loves making stops along the way or just driving straight through to your destination, you want a reliable, comfortable, and gorgeous vehicle to get you there.
If you love water sports, Dartmouth is your city of choice, and a compact SUV is the ideal vehicle. Bring your paddle board or kayak with you in the Ford EcoSport. Not only is it ideal for your transportation needs but it has plenty of room for all your water toys. With tons of storage space in the trunk, 60/40 split rear folding seats, and an optional roof rack, you will be ready to hit the water in style.
Don't forget about your city adventures. Dartmouth offers an array of cute cafes, local eateries, and shops to fill your stomach or treat yourself after a relaxing drive through the community. Your new Ford EcoSport can get you in and out of tricky parking spaces or down narrow roadways. Unlike a full-size SUV or truck, you will be able to maneuver more easily, so you don't have to walk for miles just to get to your destination.
Ford – Why it Wins
What Makes Ford Vehicles So Amazing?
Affordability – Ford vehicles are made in America meaning you can purchase the Ford brand without incurring overseas import fees. Maintenance costs are also reasonable when compared with imported vehicles. When parts need to come from other countries, the price goes up.
Dependable – Ford is a leader in the automotive industry for a reason – it is, and always has been, making vehicles you can count on. The creators of this line of vehicles know the ins and outs of mechanics and design to ensure you get a vehicle that drives well and looks good; now that is pure quality.
Ford EcoSport – The IT Vehicle
With all the benefits already mentioned about the Ford EcoSport, you would think there is nothing left to point out. You would be wrong. There are many more special benefits of this model.
Safety – Day or night, the Ford EcoSport is equipped with tail lights that extend to the back of the vehicle, so your vehicle is clearly seen on the road. This feature reduces the likelihood of a rear-ender accident since your compact SUV is highly visible.
Amazing Sound System – Listen to your favourite tunes on the road with quality sound coming from the Bang & Olufsen speakers.
Blind Spot Assistance – An indicator light will notify you of a vehicle in your blind spot so you can drive and park with confidence, helping you avoid an accident. The rear camera and parking sensors also help make driving safer.
Advanced Technology – The Ford EcoSport is equipped with a start-stop system which cuts off the engine to avoid wasting energy when stuck in traffic or stopped at a light.
Terrific Traction – This vehicle is made to help keep you on the road even in wet or icy conditions. It has 4-wheel drive and all-wheel drive to assist you with grip on rainy and snowy days. Take this vehicle with you on or off road because it can handle all types of terrain.
At Fairley & Stevens Ford, we will provide you with expert advice on the many Ford EcoSport options we have available. Drive off the lot knowing you made the right choice for your Dartmouth lifestyle. Contact us for any questions you may have ahead of time.