Which Ford Model Is Right For You? Part 2: Large SUVs & Trucks
Which Ford Model Is Right For You? Part 2: Large SUVs & Trucks
Posted on November 14, 2022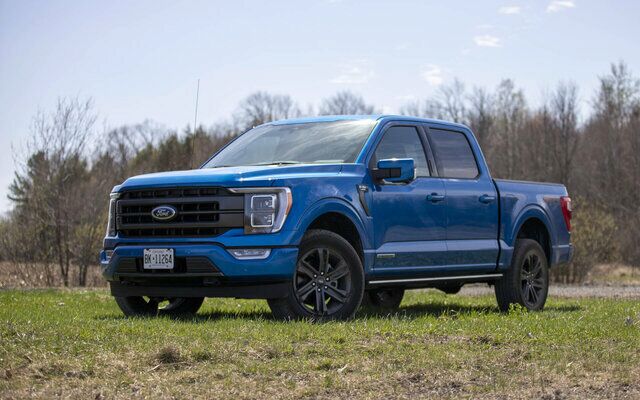 Vehicle shopping can be tough because there are a lot of options available. There are important factors such as design, space, capabilities, power and options, as well as handling, performance and safety to be reviewed and considered before making a purchase. We'd like to make the process a bit easier for you by compiling a few simple details to help you understand which Ford model is the right fit for your needs. In this edition, we're looking at the larger SUVs and trucks in the Ford lineup. If you're thinking of a smaller SUV or considering a Mustang, you can check out Which Ford Model Is Right For You? Part 1: Ponies, Crossovers & SUVs.
Large SUVs
When you need more space, a wider body style and a vehicle that can handle getting you from point A to B each day, as well as towing a trailer and handling the bigger jobs, you'll be heading for our larger SUVs line up. These larger SUVs do it all!
Explorer - There are many reasons that the Explorer has been a much loved and relied upon model in the Ford line up for over 30 years. It has a second row of seats, which gives it space for up to 7 passengers and makes the Explorer an awesome alternative to a van with all of the same space. You can also fold down the seats when not in use to get extra cargo space.
The Explorer's many safety and tech features make it a reliable and comfortable vehicle your family can rely on to get to practice and maintain a busy schedule, and for your weekend adventures. The Explorer has a rear-wheel-drive platform and 4 powerful engine options. For additional traction, there's available Intelligent 4WD with Terrain Management System and 7 selectable drive modes. It also has the ability to tow a maximum of 5,600 lbs., which means even a hefty trailer is no problem.
Features such as auto high beams, lane keeping system, adaptive cruise control and many other assistive and automatic features help to ensure your ride is smooth and comfortable and you feel safe during it. The Explorer is also available in a hybrid option and starts at around $48,000 in Canada.
Expedition - The style, comfort and capability of the Expedition, both on and off road, make it the perfect vehicle for family adventures. Dress it up with our Stealth package or Platinum options, or go for the ultimate off road capability with the Timberline model. The variety of options allows you to choose your Expedition and outfit it exactly the way that best suits your needs and lifestyle.
The Expedition has up to 440 horsepower to meet the demands of your busy lifestyle. It's a full size SUV that seats up to 8 and has an impressive amount of cargo space. It can handle almost any towing needs and can even come with a Trailer Back Up Assist option to help you get into any space. Starting at around $72,500, the Expedition is an excellent choice for busy families and anyone who needs space, functionality and flexibility.
Trucks
Whether you're looking at the brand new compact Maverick or a fully outfitted Super Duty, the Ford line up has a truck for those who need the flexibility and capabilities a truck has to offer.
Maverick - The new Ford Maverick landed on the scene and was an immediate smash success. Called the "truck made for people who never knew they needed a truck", the Maverick offers convenience, endless customization options, comfort and technology that you wouldn't expect at first glance.
The Maverick is innovative and trendsetting with a do-it-yourself customizable standard FLEXBED™, roomy interior and the latest technology such as a standard 8" Bluetooth touch screen and a 4G LTE wifi hot spot. It's also the first-ever standard Full Hybrid pickup available in Canada!
Maverick seats 5 and has maneuverability, making it the perfect city truck that can also get bigger jobs done. It has up to 4000 lbs of towing capacity, 1500 lbs of max payload capacity, a 4.5' bed and it does this all while giving you a 5.6L/100km fuel consumption when you choose the 2.5L Hybrid engine. Starting at around $28,000 and offering off road packages as well, the Maverick is a versatile truck that can suit almost anyone.
Ranger - The Ranger may be one of the smaller trucks in our line up, but it's still Built Ford Tough and can handle anything you can throw at it. The Ranger comes with a variety of options, including the Tremor off road package that makes it the perfect truck for your adventures - it's small and nimble, but has all of the ruggedness you need to know you'll get where you want to go.
The Ranger also has the only Gasoline Turbocharged Engine in its class which features best-in-class gas torque, best-in-class payload and the class-exclusive 10-Speed Select Shift transmission. And it can tow an impressive max weight of 7500 lbs and has an electronic shift to allow you to shift into 4 wheel drive at the touch of a button and an electronic locking rear differential. When you're looking at mid-sized trucks starting around $37,000, you won't find a better option in this class!
F-150- The F-150 is a purpose-built truck from the ground up. It's designed to be tough and productive, like a beast with brains. It's relentlessly tough, high-strength, military-grade and has an aluminum-alloy body. It's torture-tested high-strength steel frame has new tech to help you work smarter and harder.
The F-150 has numerous options, too many to mention, but there's literally a model for every need. This is one of the most common reasons the F Series have been Canada's top selling truck for over 56 years. The F-150 starts at around $40,000 but has model options up to almost $100,000 - a testament to its versatility and all of the available options, which include a 3.5L Powerboost full hybrid V6 engine.
You can count on the F-150 to get the job done because it has best in class towing (up to 14,000 lbs) and payload ratings. It also has a built-in generator and a variety of smart tech options that allows your truck to become a mobile work station.
The hardest part about buying an F-150 is deciding which model option is best for you!
F-150 Lightning - With pretty much all of the features of your favourite gas powered or hybrid F-150, the Lighting is a full electric truck - one of the first on the market!
Starting at $68,000, the F-150 Lightning comes with additional cargo space in the frunk, which also doubles as your power station. It also has similar towing and payload capabilities to the traditional F-150's. The Lightning isn't an EV pretending to be a truck, it's a fully capable truck that can handle whatever you can throw at it, plus it has additional technology features that take it to the next level. This is one vehicle you have to experience to fully understand how amazing it truly is!
If you're looking for a pick up truck that can do all of the things you need a truck to do, plus it looks amazing and happens to be an EV, this is the one for you!
Super Duty If you've got big jobs to get done, the Super Duty F-250 and F-350 are the right tools for the job. It's got intelligent towing tech including a 360 degree camera, Onboard Scales to manage towing and payload, Pro Trailer Hitch Assist and Enhanced Trailer Navigation that adapts your route based on height and weight clearances. It's also equipped with 5G technology to keep you connected wherever you go and plenty of options built right into the bed of the truck to make your work easier.
It takes strength to build a country, haul the steel beams and move the cement that anchors them. The Super Duty comes equipped with a new 6.7L High Output Power Stroke V8 Turbo Diesel engine, offering the most horsepower ever in a Super Duty. And all of this starts at around $50,000.
While this gives you a general idea of which of the larger Ford models you may want to consider, you'll likely want to stop into the ford dealership to discuss your needs and which vehicle will work best for you and your budget. Our Sales team can also help you with financing options and discuss inventory availability, especially on the Maverick and F-150 Lighting. We look forward to helping you soon!