Which Ford Model Is Right For You? Part 1: Ponies, Crossovers & SUVs
Which Ford Model Is Right For You? Part 1: Ponies, Crossovers & SUVs
Posted on October 21, 2022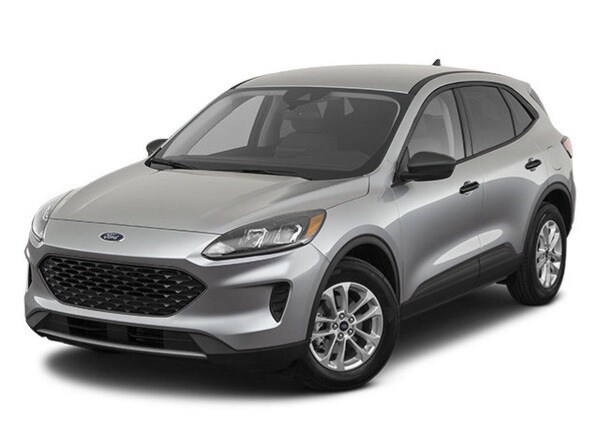 There are a lot of different options to choose from when you start vehicle shopping and it can be hard to know which one is right for you. Outside of a simple budget check, you are likely to be looking for a certain amount of space, power and capabilities. We've put together a few simple details to help you determine which Ford model is right for you. In this edition, we're looking at the Crossovers and SUVs to compare the smaller entries into the Ford lineup. And of course, the one and only Ford Mustang.
Mustang
In a category all to itself, if you're looking for a beautiful iconic car that's got a powerful engine and a smooth ride, you're already considering the Ford Mustang. It comes in the GT, Fastback, Premium, Mach 1 and Shelby editions with an optional EcoBoost engine and convertible available. If the Mustang is right for you, you'll know it!
Crossovers
When you're looking for your everyday, practical vehicles, the Ford crossover lineup is both affordable and well performing with a wide variety of options to suit every need and budget.
EcoSport - Called the "feel good, do anything" model, the EcoSport offers a sporty appearance and performance with peace-of-mind safety features that make it ideal for carefree everyday driving. The EcoSport provides a stylish interior and intelligent technology to help keep you connected while on the road.
The EcoSport may be the smallest of the Ford crossover lineup, but it's big on features. Sync with Apple CarPlay and AndroidAuto, blind spot detection, voice activated touch screen navigation and a power moonroof and lift gate are just some of the awesome options available in this 5-seater that starts just under $26,000 in Canada. Get them quick though because they have been discontinued in Canada!
Escape - Definitely one of Ford's most popular vehicles, the versatile and highly capable Escape is sure to suit anyone looking for a 5-seater crossover SUV with power and space for days. The Escape has 3 engine options available and comes in the S, SE, SEL and Titanium powertrain options. It is also available in both a hybrid and PHEV version. This wide variety of different choices is one of the things that makes the Escape so appealing - there is literally a model for everyone which allows you to get more of what you want and less of what you don't.
With an extendable second row for maximum legroom, powerful engine options, extensive cargo space and a max towing capacity of 3500 lbs (with Towing Pkg included), the Escape can literally do it all, making it the perfect vehicle for any individual or family alike. The Escape starts at around $30,000 in Canada and ranges to about $46,000 (plus available options) with comfortable seating and numerous standard safety features included.
SUV's
Larger and more powerful than our crossover lineup, these SUVs are the two row, 5-seater options with a huge range of capabilities and purposes, most of which are quite new to the Ford family.
Bronco Sport - One of the newest options in the Ford lineup, the Bronco Sport has been wildly popular. Not just because of its iconic big brother, but also because it offers off road handling and capability with the size and design that fits city living. Purposeful design paired with a focus on utility means you get the best of both worlds in your Bronco Sport.
A roomy interior, standard 4x4 capability, GOAT mode that can take you over any type of terrain and HOSS suspension system make your outdoor dreams come true, while also offering cargo space and numerous interior features that make this a great daily city driver too. The Bronco Sport is the perfect choice for the weekend adventurer who also needs a comfortable commuter vehicle.
Edge - The Ford Edge takes the comfort and convenience of the Escape and amps up the style for the perfect SUV experience. It comes with standard AWD on every model, a 12" centre touchscreen and Sync which bundles great handling all year round, with the technology to get you where you're going with all the tools you need. The Edge has also been recognized as an IIHS Top Safety Pick to give you peace of mind that you're not only driving in style and comfort but also with all of the options you need for safe trips.
This 5-seater starts at around $40,000, has tons of cargo space and can even pair with your Alexa for convenient home to car experiences. If you're looking for the perfect small SUV with tons of luxury and styling, the Edge is for you!
Mustang Mach-E - An all electric SUV for the Mustang lover and those who are looking for a well performing electric vehicle that is also sleek and stylish in design and interior space. The various models carry very different package options, so it's worth visiting the Ford website to build and price your Mach-E, but what's good to know is that you'll get an estimated standard battery range of 397kms per full charge and be able to go 0-100kms/hour in 5.6 seconds!
Starting from about $52,000, in eAWD or RWD, these beauties are hard to come by so you'll be looking at a bit of a wait, but it's well worth it - just ask the huge number of customers who have converted from other brands to the Mach-E!
Bronco - A massive crowd favourite, the new Ford Bronco has also been named the North American Utility Vehicle Of The Year. While this vehicle has a roomy interior and tons of great features, the primary reason to go with the Bronco is its off road capabilities. Every Bronco comes standard with a Terrain Management System that includes 5-7 GOAT modes to literally take you anywhere. The Bronco can crawl rocks, ford some pretty deep water and take you on the backwoods adventures you've been looking for the perfect vehicle for.
The Bronco starts at around $43,000 but that price can vary wildly depending on which of the vast array of accessories and options you can choose from. There are so many ways to customize your Bronco that you can expect to see Bronco showrooms popping up across Canada and the US soon!
Check out the Ford website to build your Bronco or visit the dealership and we can help you make the choices that are right for your needs.
While this gives you a general idea of which Ford models you may want to consider, you will want to pop into your local Ford Dartmouth dealership to discuss your needs and which vehicle will work best for you and your budget. Our Sales team can also help you with financing options and what inventory availability looks like. We look forward to helping you soon!