Spring Car Tune Up Checklist
Spring Car Tune Up Checklist
Posted on May 24, 2022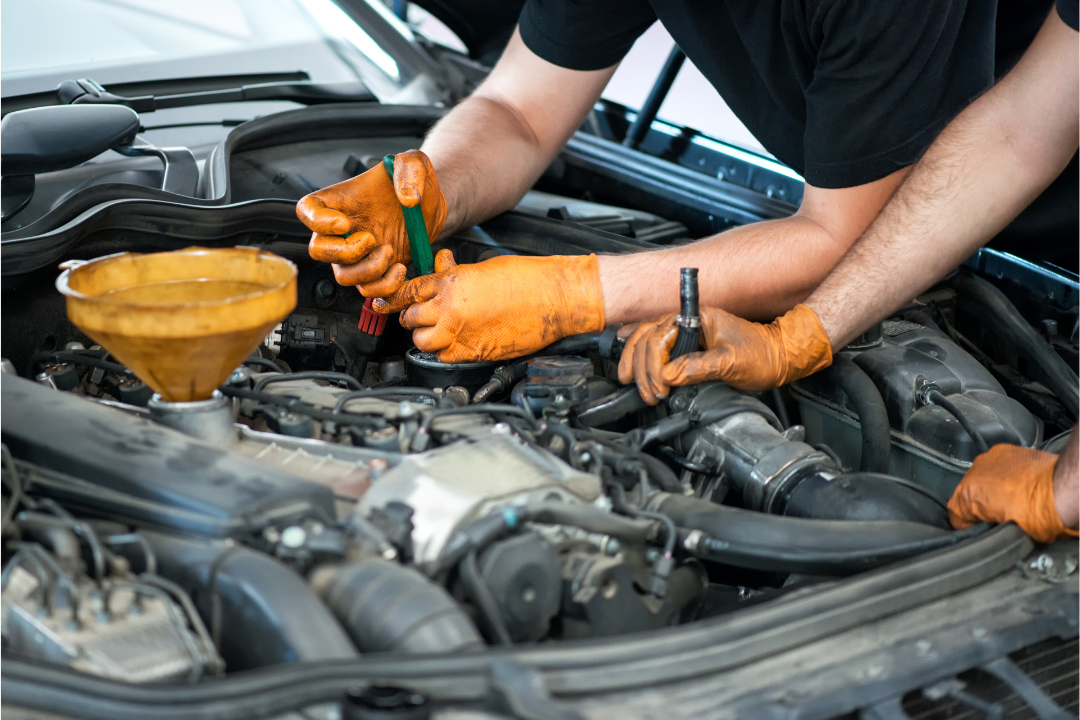 After a harsh Canadian winter, your vehicle has likely been through the ringer and could use some TLC. A spring tune up is the perfect time to check in on how your vehicle is doing, what maintenance it may need over the coming months and getting it in great shape for summer road trip season.
Looking for wear and tear, changing out filters, switching off your winter tires and topping up fluids are all tasks you can do yourself at home. You may also find it's easier to leave them to the experts. Either way, here is a list of the things you should consider in a spring tune up.
Change and rotate your tires. As you take off your old tires, check them for any damage that may indicate they need to be replaced before next winter. Check the tread for uneven or irregular wear and for cuts or bruises on the sidewalls. Rotate your summer tires when you put them on to ensure they are wearing evenly and replace any that may be overly worn or damaged. Have your tires professionally balanced and your alignment checked to give you the best performance. Be sure to check your tire pressure regularly and make adjustments as needed. The heat of the summer can definitely impact your tire pressure, which impacts your tire's performance and life span, as well as your gas mileage
Change your oil and oil filter. It's pretty common to put off oil changes in the winter due to the cold, but your oil needs to be changed at regular intervals so if you haven't done one recently, now is the time. Neglecting to replace engine oil can result in poor engine performance, higher fuel consumption and even severe engine damage.

You should also check your engine air filter, cabin air filter and fuel filter and replace them if necessary.


Check your fluids. When you change your oil and oil filter, you should also check your fluids. Check your power steering, brake and transmission fluids. Also, your windshield washer fluid and coolant. If the levels are low, top them up. Now is also a good time to check your owner's manual for recommended flush or replacement intervals. Keep in mind that your power steering, brake and coolant systems are closed, so if fluid levels are low, it may indicate a leak.
Check your battery. The cold temperatures in the winter can do a number on your battery, especially if you weren't regularly plugging it in or storing your vehicle in a heated garage. Test your battery, make sure it's securely mounted and that the connections are clean, tight and free of corrosion. You should also check how old your battery is and consider replacing it if it's more than five years old.
Replace your wiper blades. Winter is especially harsh on your wiper blades. Spring is a good time to replace them with blades meant specifically for the rain and bug removal. Change your windshield washer fluid to one meant for summer weather as well.
Fix your windshield. Winter is prime time for rock chips, so check for any you may not have noticed throughout the winter months and have them repaired so they don't cause further issues. Cracks can reduce the effectiveness of your windshield in case of an accident and can reduce your visibility.
Check your braking system. Winter does a number on your brakes so be sure to take your vehicle in for brake maintenance. Have the brake pads and rotors checked for signs of wear or damage. Replace any parts that are not in working order as soon as possible.
Look over your belts and hoses. Cold temperatures can harden and/or damage rubber and plastic, so it's important to check your belts and hoses for damage. Look for hardened or softened areas, leaks, cracks, blistering or any other visual damage. You'll also want to check your belts to see if any have come loose, cracked, frayed or become glazed.
Test your lights. Check all exterior and interior lighting to identify any problems. Be extra careful with your signal lights and exterior lights to ensure you can be seen and communicate with other motorists effectively.

Check the following:
turn signals
brake lights
headlights (low and high beam)
marker lights
daytime running lights
Wash your vehicle. After a long winter of salt and slush all over your car, it needs a good wash, especially if the frigid temperatures kept your from washing it much of the winter months. Give the exterior a good wash and polish, check for any rust spots that may be developing and take steps to manage them. Detail the interior of your vehicle, clean your mats and put in summer mats if you have them.
While it takes some time and investment, winter can be harsh on a vehicle so giving it a good tune up now means you can enjoy a summer full of road trips and adventures. Save yourself some time and book a full vehicle maintenance with us today!
Come see us today at our Ford Dealership!