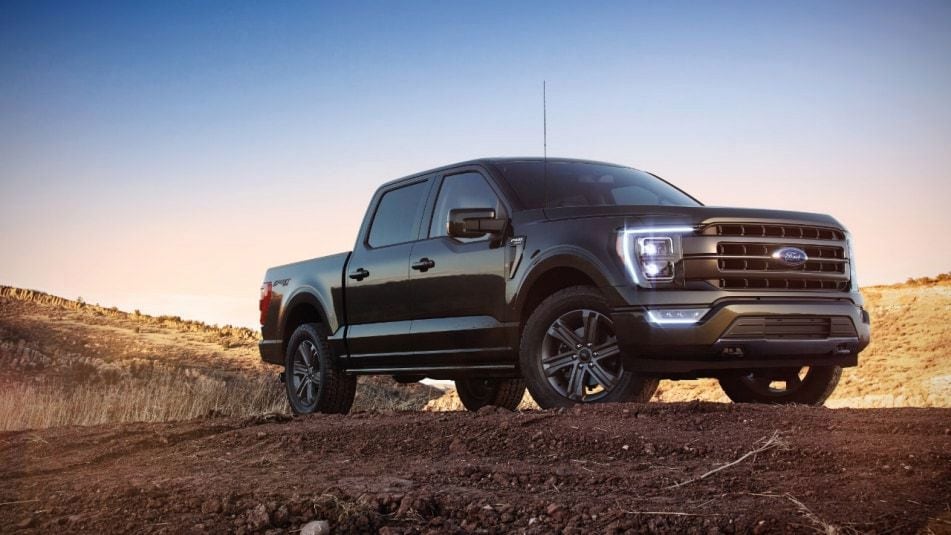 ?
In 2020, the Ford F-Series trucks accounted for a large portion of the overall new vehicle market share in Canada. They are a huge seller for Ford in general, within the pickup category and overall in the market. Check out these stats for the Ford F-Series trucks in 2020:
Accounted for 55 percent of all Fords sold in Canada

Comprised 54 percent of Ford Motor Company's sales

Were 39 percent of full-size pickups sold of any brand

And made up 8 percent of the entire new vehicle fleet sold overall
If you drive a Ford F-Series truck, chances are, you already know why they are so popular. But if not, here are some key highlights on each of the different models to help you decide which one is right for you! F-150 The Ford F-150 has been the most popular vehicle in Canada for over 50 years for several reasons. It is a light truck but it has the ability to tow 7,600 pounds or carry a payload of 1,910 pounds. With four engine options, drivers have a lot of options to choose from when selecting their F-150. The base truck comes with a 282-hp 3.5-liter V6 which produces 253 feet/pound of torque. For drivers that are concerned about their towing capability, there is also an option with a 5.0-liter V8 which produces 385 horsepower and 387 feet-pound of torque. F-250 For drivers that are looking to tow a trailer or camper, you may want to start with the F-250. The F-250 has more towing capacity than the F-150 but is still the smallest Ford Super Duty truck. The Ford F-250 has a 6.2-liter V8 engine which produces 385 horsepower and 430 pound/feet of torque. Drivers may also want a diesel F-250, which is also an available option. The other engine option, a 440-horsepower 6.7-liter turbodiesel V8 produces 925 pound/feet of torque. The gas engine can tow 15,000 pounds and the diesel engine can tow 18,000 lbs. F-350 The F-350 is the next size up among the Ford Super Duty line-up after the F-250, offering even more towing and hauling performance. With its 440-hp 6.7-liter turbodiesel V8 engine, the F-350 can haul up to 4,200 pounds. In terms of towing capacity, the F-350 can tow 18,600 pounds. The F-350 is able to perform these tasks due to its engine which produces 925 pound/feet of torque. The Ford F-350 incorporates the latest safety technology to provide the driver with a 350-degree view of the truck through Ford's Ultimate Trailer Tow Camera System. F-450 Of the Ford Super Duty trucks, the F-450 has the most towing capability. The F-450 was made to carry heavy machinery such as a massive trailer or large boats. In fact, the F-450 comes standard with dual rear wheels. Not surprisingly, of the Super Duty trucks, the F-450 also has the largest carrying capacity. The F-450 can carry 5,320 pounds or tow 32,500 pounds. This F-450 is able to accomplish this feat in large part due to its 475-hp 6.7-liter turbodiesel engine. This same engine produces 1,050 pound/feet of torque. Despite these advantages, the F-450 is not as practical as some of the lighter options for day-to-day driving. However, for drivers that do a lot of off-road driving and towing, it's hard to beat the F-450! F-550 The Ford F-550 is almost always used as a commercial vehicle. The F-550 can be used for tasks such as carrying heavy-duty construction equipment. It comes standard with 288-hp 6.8-liter gasoline-powered V10. With its powerful 288-hp V10, the F-550 produces 750 pound/feet of torque. The gas-powered model of the F-550 can tow 20,700 pounds, while the diesel-powered model can tow up to 31,800 pounds. In terms of capacity, the F-550 can carry up to 19,500 pounds, which is part of the reason it is often used for aerial lift equipment and as a dump truck. F-650 The Ford F-650 is usually seen exclusively as a commercial vehicle. For drivers that see an F-650 on the road, they are almost always being used for towing trailers. However, there is a small chance that drivers may spot Shaquille O'Neal driving his F-650 on the road. The F-650 comes equipped with a 6.7-liter Powerstroke diesel V8 engine which produces 750 pound/feet of torque and 330 horsepower. F-750 The biggest truck in the F-Series is the Ford F-750, weighing as much as 37,000 pounds. Not surprisingly, the F-750 is used for commercial work such as a dump truck. The F-750 is able to do commercial work due to its 6.7-liter Power Stroke V8 Turbo Diesel engine. The F-750 produces 725 pounds/feet of torque with its 300-hp engine. Whether a driver needs a truck to transport cars on a flatbed or to transport commercial goods, they will be able to do so with the F-750. NEW: Ford F-150 Lightning The F-series is Canada's best-selling truck for over 50 years for a reason. And now, it's charging into the future with the all-new, all-electric 2022 Ford F-150 Lightning. It's the first ever F-Series that's gas-free and offers more purposeful technology, an elevated driving experience and trusted Built Ford Tough capability. Offering an ingenious array of connected, intelligent features with over-the-air Software Updates to help ensure your truck can get even better over time. Just the sheer variety of trucks in the F-Series line-up makes it easy to see why they are the best selling trucks on the market year after year. If you're interested in a new or used F-Series truck, need a commercial vehicle built to suit your needs or are looking to preorder the NEW 2022 F-150 Lightning, call Fairley & Stevens today or visit your local Dartmouth NS Ford Dealer today!