6 Essential Items To Pack On Summer Road Trips
6 Essential Items To Pack On Summer Road Trips
Posted on July 18, 2022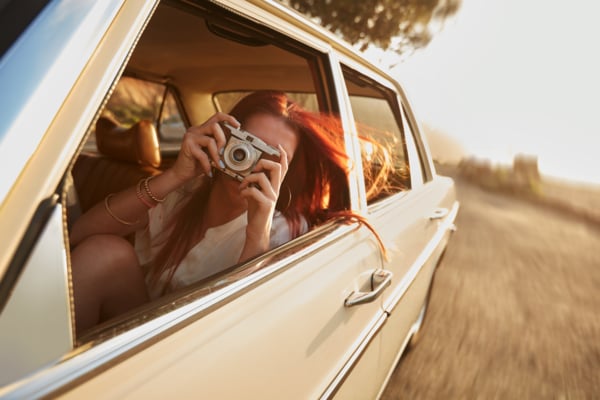 One of the best summer pastimes is the time-honoured road trip! You pack up a few friends, make a sweet playlist and hit the road - what could be more amazing than that?!
While one thing that makes road trips so amazing is the freedom and spontaneity, there's nothing that will ruin a great road trip faster than being unprepared. Here is our list of the most essential things to pack on your next trip out on the open road.
Snacks - Many would argue that the snacks are the best part of any roadtrip. If you have time, make up some healthy snacks at home before you head out, or rely on pit stops at the local grocery stores, farmers markets and cafes for amazing local fare.
Music - if you're an experienced road tripper, you likely already have a driving playlist. Depending on who you're heading out with and where you're gong, you may want to create a whole new playlist for the adventure or add a few new feature songs to your existing lists. Either way, music always makes a trip more memorable so don't skip out on getting the perfect playlist set up.
Toiletries - No explanation needed, be sure to pack your toiletries. A hairbrush, toothbrush, floss, deodorant and anything else you need to feel fresh and comfortable goes a long way when you're spending hours in a car!
First Aid Kit - Any road trip worth it's salt is going to take you through areas that do not have quick access to a pharmacy for first aid supplies so be sure to pack a kit. Buying one that is premade can be the simplest solution (you should keep a first aid kit in your car at all times anyways), but you can also make a DIY kit. A quick search online will offer a list of items you should include.
Road Safety Kit - Another necessity at any time, a road safety kit is a non-negotiable on a road trip. Tire repair tools, flares and an emergency blanket are all crucial when you're driving long stretches, especially in more isolated areas without cell reception.
Tire Necessities - Putting on a lot of kms can cause tire issues to show up and often at the most inopportune times. Having a jack, wrench and a spare tire in your vehicle can save you from a ruined road trip and an expensive tow truck bill.
And not to dampen the fun of jumping in the car with no specific plan, you do need to have a few things in order before heading out.
Decide where you'll sleep - If it'll be hotels, you're all set with an overnight bag, but if you plan to camp or sleep in the car, be sure you've thought about equipment, safety and comfortable sleeping arrangements because lack of sleep can be a rapid mood killer!
Plan your fuel/power stops - If you're traveling in a gas-powered vehicle, you may only be worried about fuel if you're heading somewhere with long stretches off the grid. For battery-powered vehicles though, you'll want to ensure your route has charging stations accessible along it and that you have any necessary adaptors on hand.
Vehicle maintenance - Make sure your vehicle is not due for an oil change or any other service, that your wipers, tires and brakes are in good shape and that your vehicle is in good condition overall. Book a summer maintenance tune-up and inspection today so you're always road trip ready! There are so many beautiful and interesting places to visit. These few prep steps will ensure your road trips are a huge success this summer so you get to truly enjoy the sights! Come visit us today at your local Dartmouth Ford Dealership!